Aureus Ars & Scientia asbl triples support for Aureus Prize
In February, the University of Luxembourg Incubator hosted the second Aureus Ars & Scientia Prize, where 17 startups from Belgium, France, Hong Kong and Luxembourg pitched their ideas in front of an external executive.
The finalists for this year's Aureus Prize (WINALIST, Solal Tech, Jooxter, DILLAN, Holis, Tech4Gaia, ANote Music SARL, PE Cube, EmailTree AI, SAS COACHING 4.0, o2o, Manual.to, Spentys, Pricing Pact, Cikisi, Moonbird, Retykle) got a chance to pitch their startups in front of the jury and executive guests. Startups of the University of Luxembourg Accelerator - Move Me, URANUS Group, LegAI, Veezzy, and Neural Wave - then presented their projects to the jury members and guests from the delegation.
The winners of the Aureus Ars & Scientia Prize 2023 are Retykle from Hong Kong, SPENTYS from Belgium, and WINALIST from France. These three startups will now join startups of the University of Luxembourg Incubator's Accelerator for the US immersion roadshow planned for this spring and fully financed by Aureus Ars & Scientia.
Jury which consisted of Rajaa Mekouar, Founder & CEO at Calista Direct Investors, HE Thomas Lambert, Belgian Ambassador to Luxembourg, Piet Colruyt, Founder of Impact House, Olivier Van Outryve, Partner at Dugardyn & Partners, Olivier Van Regemortel, CEO and Founder of Orea Capital and board member Aureus Ars & Scientia, Jacques Mahaux, Non-Executive Director at Orea Capital, Erica Monfardini, Director of Data and Partnerships at B Medical Systems, Michel Rzonzef, Vice President at LBAN, Francois Tesch, Chairman Foyer Group, and Geoffroy De Witte, Owner Friagra and serial entrepreneur.
The Aureus Prize was launched by the Aureus Ars & Scientia asbl in partnership with the University of Luxembourg Incubator. "With Aureus Ars & Scientia Prize, we are providing a fantastic opportunity for emerging entrepreneurs who wish to scale their business in the USA," mentioned Olivier Van Regemortel, Managing Director of Aureus Ars & Scientia asbl. "Our entrepreneurs will feel the vibe of entrepreneurship in the USA and have the chance to look for opportunities to grow their companies. Last year's big success has convinced Aureus Ars & Scientia to expand the Prize and extend it to other countries beyond Belgium as there was a big demand to participate. Last year's winner, Juunoo, has made phenomenal strides in growing their business into USA and in raising additional funding to support this expansion. Aureus Ars & Scientia are also excited thus to support the University Accelerator under the leadership of Pranjul Shah and his team for 2 additional years." Beyond Orea Capital and Pulse Foundation, Le Village by Crédit Agricole have joined as partners of the Aureus Prize from this year.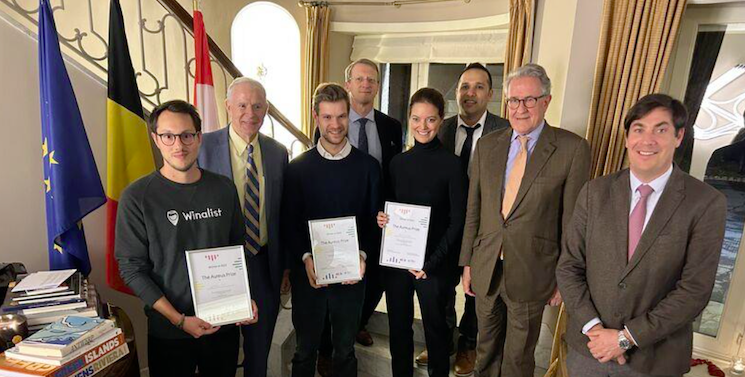 The winners this year were announced by the US Ambassador Tom Barrett, Chairman of the Board of Directors at Foyer Mr. François Tesch, and Ambassador of Belgium Thomas Lambert, at an award ceremony hosted at his residence. "As we celebrate the second edition of this competition, I am very happy to see that there are many people participating from Belgium but also from other countries," said Thomas Lambert to the guests in his welcoming speech. "This is a formula that brings together people from different countries to create friendships, bridge gaps and contribute to the network".
"We are excited to see that our Accelerator is growing internationally with new partners from France and Hong Kong" Dr Pranjul Shah, manager of the University of Luxembourg Incubator.
.
Presenting the award, the US Ambassador to Luxembourg, Tom Barrett said : "The United States is a global leader in innovation, technology, and entrepreneurship, providing ample opportunities for startups to scale up their business. Innovative startups are instrumental drivers of both the transatlantic and global economies. I am honored to welcome the winners of the Aureus Prize to the United States to foster further growth and international collaboration."
François Tesch also commented : "All the presentations were very interesting, and it was very difficult to actually make a choice because in every idea there was something new and compelling."
"We are excited to see that our Accelerator is growing internationally with new partners from France and Hong Kong," said Dr Pranjul Shah, manager of the University of Luxembourg Incubator. "We are grateful that Aureus Ars & Scientia has decided to extend the funding support for two additional years. We thank them, the startups who pitched today and all the partners for making our Accelerator the best in Luxembourg."
Press release from the University of Luxembourg Incubator and Entrepreneurship Programme